The community of Widgee is located in South-East Queensland, about 25 kilometres west of Gympie. Widgee is a rural community, nestled in the valley of Widgee Creek. The countryside around is a mixture of forested hills and rolling pastureland. Widgee has a population of over 700 people.

The community boasts a wide range of community facilities, including a school, shop, church, a showground, a community hall and a community complex with a sporting oval. Business is also growing with an expanding industrial estate which includes light industrial suites, with many more businesses in the surrounding area.

From the early days of settlement through to the present, cattle have played a prominent role in the Widgee district, and this history is reflected in the Bushman's Carnival, held each May. Until recently, the Bushman's Carnival formed part of the professional rodeo circuit. Now the emphasis is on campdraft and Pony Club events.

In modern times, the community has diversified considerably, and there is now a wide range of agricultural and other industries in the area. There are many clubs and societies operating in the community, including a Pony Club, a Craft Club and a Quilting and Patchwork group. The local Hall and Recreation Committee is particularly active, staffing and running the Bushman's Bar. The Bar is open on Friday and Saturday nights and is the social heart of the community.

Widgee hosted the inaugural Country Music Muster in 1982 and was the home of country music singers the Webb Brothers. It now hosts another annual country music event growing almost as quickly, in the form of the Widgee Balladeers & Country Music held in October each year at the Bushman's Bar.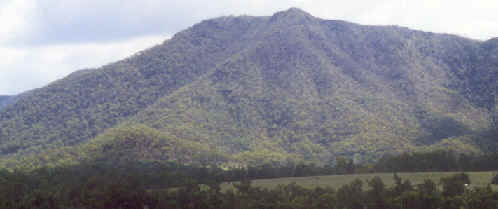 Widgee Mountain
This site developed and sponsored by Queensland Country Computer Services.
For further information on this site contact Graham via email to qccs@pobox.com